Firstly, some souvenirs from Italy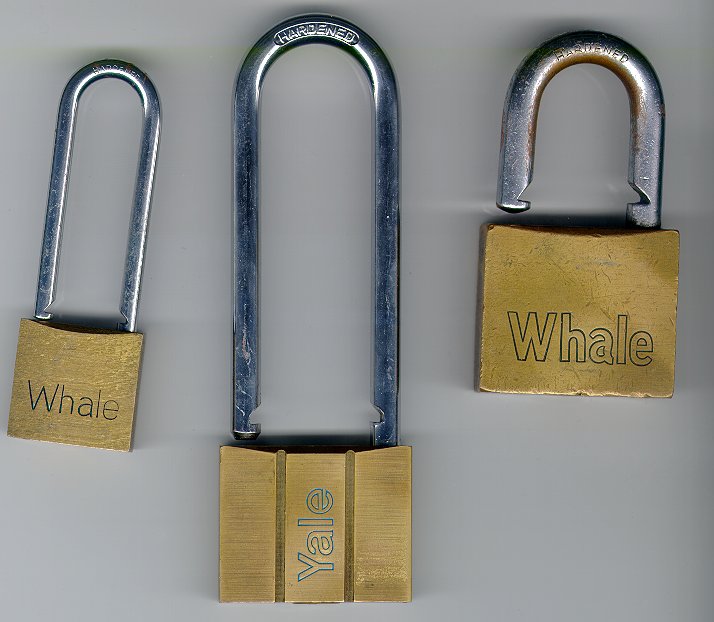 ---
Sorry, no fancy html or even asp here. Just some boring text, I hope you don't mind ...

The Beginning

Hmm, I arrived on Thursday from the icebox known as Holland. Aaah, finally Summer, a nice 30 degrees with loads of humidity.

The next day, Friday, I start with my first "lessons." Lockpicking, with just one pick set. Angst runs through my mind -- I wonder if nobody here is interested in lockpicking? I find a table somewhere, I find some chairs somewhere and the people start to flood in.

I bought a box of cheap locks, which I have spent much time on myself, locks which have taught me very much.

I take out the Moon lock, an Abus Disk Lock Clone. It opens faster with picks than with the key. Great stuff for eight guilders. I start people on this lock. Wow! All are amazed how I get this lock open in one second (stupid people -- put pick on pick, add tension, difficult?). After much work, everyone gets the Moon open. Sadly, I didn't have any t-shirts: I opened the Moon.

I work from one to around seven. Long day. Only one pick crunched up. Someone trying to open the Moon with brute force. Yes, there are many stupid people out there.

Saturday

Saturday, the big day. The CPA (the squat where the Hackit98 was held) is packed with people. Yeek. It's going to be a busy day. The moment I start to sit down, the eager students start to flood in.

Anger! I couldn't pick a cheap cisa lock. Grr. The key worked better. Sulking

Again, showing people how to open the Moon and then other cheap locks. Some people are really getting good at this. Wow! So much talent. I see some people go from one lock to another, others struggle at some cheap bike locks -- and they don't give up, they go for it.

I open cheap lock after cheap lock, to show all that they can do it to. Give someone the right encouragement and all can do it. That's one of the my important things in lockpicking, learning what really you can do.

All wait patiently. Even some start to make spanners for me -- I'm doing this with just one pick set! All are involved in the deepest mediatation -- a pure form on concentration in developing the relationship with the lock.

It's getting late. My hand aches. I've opened too many cheap locks. Ouch. Late, very late, it seems. I close the workshop. Many have had a good time, many have learnt a lot.

Winding Down

Sunday, the last day. Start again at one. It's much quieter than Saturday, more relaxed. Then the rain washes out the workshop after a few hours, what a shame. So many were interested!

However, the fun is not over! Sunday evening, the key to the room is gone. Oh no! I'll save the day! Duh, can I really do this?

I rake away, rake away and finally, that moment, when you feel that the lock popps open. Aaah. The door is open, the day is saved. Ahhh.

Monday morning, all is very quiet. Aaah. The Hackit98 is over, all is very quiet. I want to go to the building across from ours with the "luxury" facilitites.

Oh No! A lock! A Whale! Oh No! What do I do? Wake up someone to look for the key? No! I get out my little pick set. A short time, and it goes open. Heheheheheh. Yet another souvenir for me.

Oh No! I'm called to duty again. In the same building! A hub is missing! Get the hook out, try and open! Yes, we're in the room. Sadly, no hub found. Grr. But I have yet another nice souvenir. Someone asks me if I can pick the room upstairs with all of the expensive stuff. Duh, I politely say no.

Tuesday I fly back home, hmmm, at the airport they open my bags. Hmm, locks. They don't speak English, they just laugh. Pazzione, they say. During the flight I join the Mile High Club, with lock picking that is. Why are these people looking at me? Five locks open. Not so difficult, at my level for the moment.

And finally

Thanks to all who made this trip possible: bigmac, charlotte, lenneke, billsf, ceciel, barry, tamara, ellen, hann0 and niels. And of course, most grateful to those two who seem to be organising everything for us: patrice and barbara. And also to www.ssdev.org! Looking forward to the Hackit99 already.
---
Want to learn more? Download the MIT - Guide to Lockpicking.